12 Best Marketing Podcasts to Make You a Better Marketer
How did we decide which of the many marketing podcasts should make the cut?
We asked members of our SEO Facebook group—Ahrefs Insider—for recommendations.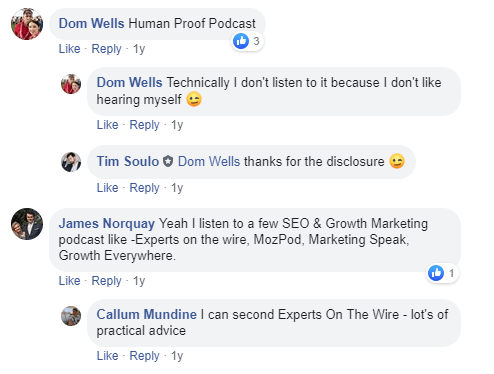 We then vetted them and removed those that aren't worth your time.
So, in no particular order, here's the final list…
Topics: Digital marketing, startups
Website: Mixergy
Host(s): Andrew Warner
Listen on: Apple Podcasts, Google Podcasts, Stitcher, Spotify
In 2008, Andrew Warner's idea to make Mixergy an invitation-only website failed. So he decided to learn from his mistakes. In his own words, he became "a learning machine." He started to interview people who could teach him and others how never to make stupid mistakes like that again, and how to create a better company.
One of the best things about the Mixergy podcast is the host's energy and wit. He asks guests provocative questions that most other hosts wouldn't bring up. Since 2008, Andrew has interviewed over 1,500 entrepreneurs, marketing professionals, startup founders, and investors. Gary Vaynerchuk, Jimmy Wales, Barbara Corcoran are some of the most notable guests.
This year, Andrew has ambitious plans to fly to all seven continents and interview marketing professionals outside the US. For now, here's an interview with Ray Edwards, the author of "How to Write Copy that Sells":
2. Content and Conversation
Topics: Content marketing, SEO, email outreach, Reddit marketing, etc.
Website: Siege Media
Host(s): Ross Hudgens
Listen on: Apple Podcasts
In 2018, Ross Hudgens, founder of Siege Media, began recording conversations with well-known industry practitioners for his company's YouTube channel. Now, he's repurposed those videos as a podcast.
Every single interview is an in-person conversation. Ross spends a lot of time and energy choosing great guests. Sometimes they're established professionals like Rand Fishkin, and other times they relative newcomers like Kevin Indig or Neville Medhora. Check out the episode with Neville below:
Topics: SEO, PPC, content marketing, social media marketing, inbound marketing, growth hacking
Website: SureOak
Host(s): Tom Casano
Listen on: Apple Podcasts, Stitcher
Tom Casano, the host of the SureOak podcast, believes that blogs are 'crowded' with content. That's why he chose to launch a podcast instead, where he now interviews CMOs and marketing leaders.
The folks at SureOak consistently publish one episode per week. They also share a video of the talk on YouTube, repurpose short clips for social media, and create posts out of the interviews.
Check out this episode where our very own Tim Soulo discusses how to bring more value to customers:
Topics: Marketing, SEO, content marketing, growth
Website: Brafton
Host(s): Jeff Baker & Francis Ma
Listen on: Apple Podcasts, Spotify, Stitcher, Anchor.fm
Jeff and Francis often joke that the reason they started this podcast was to share their mockery with the world. But the real reason was to showcase the brand's personality and connect with their audience on a more personal level.
Above the Fold is for listeners who want to hear a raw conversation with zero cuts and almost no post-production work. That may sound odd in a world of increasingly well-polished podcasts, but it was an intentional decision. Jeff and Francis wanted listeners to feel like they're part of a conversation, rather than listening to a lecture.
Guests so far include Nick Eubanks, Eli Schwartz, and many others. Listen to Nick's episode below:
Topics: Marketing, entrepreneurship, business mindset
Website: Marketing over Coffee
Host(s): John Wall and Christopher Penn
Listen on: Apple Podcasts, Stitcher
Marketing over Coffee is a podcast "at the intersection of marketing and technology." Generally speaking, the hosts, John and Christopher, take a data-driven approach to the latest marketing trends and topics.
SIDENOTE.
Our very own Rebekah Bek wrote about working with John and Chris in our podcast sponsorship post.
They have two types of episodes: topics of the week, and interviews. In the former, they discuss a hot marketing topic. In the latter, they interview entrepreneurs and marketers. Notable guests so far include Seth Godin, David Meerman Scott, and Simon Sinek.
Marketing Over Coffee is one of the longest-running podcasts on our list—10 years and still going strong. Check out this episode with Brendan Kane speaking about social media communities, brand advocates and his book "One million followers":
6. Everyone Hates Marketers
Topics: Marketing, CRO, social media, content marketing, SEO, SaaS
Website: Everyone Hates Marketers
Host(s): Louis Grenier
Listen on: Apple Podcasts, Spotify
Everyone Hates Marketers was born out of two events that Louis Grenier organized for bootstrapped companies a couple of years ago. People liked the interview format, so Louis started to interview founders, entrepreneurs, marketers remotely. After getting a few interviews in the bag, he decided to launch a podcast.
Every Tuesday, Louis publishes a new episode where he interviews a new guest. He believes that his podcast is super actionable. Most marketing podcasts cover concepts in very generic terms without ever drilling down to the details. But not this one. Everyone Hates Marketing podcast focuses on bringing true value and helping listeners to solve their most painful challenges.
Louis focuses primarily on evergreen topics such as customer research, marketing strategy, market orientation, brand positioning, and so forth. Learn Seth Godin's marketing secrets in this episode:
Topics: Online marketing, email marketing, SEO, PPC, social media
Website: Marketing O'Clock
Host(s): Jessica Budde and Greg Finn
Listen on: Apple Podcasts, Spotify, Stitcher
Marketing O' Clock is perhaps the most entertaining way to keep up to date on the latest digital marketing news, thanks to the entertaining hosts: Jessica and Greg. Recently, they have also been experimenting with interviewing guests about their journeys. These episodes go live on the first Tuesday of each month.
Jessica and Greg are marketing practitioners, so they are focused on bringing real value to their podcast episodes. Check out their interview with Eric Enge where he shares the story of his transition from engineer to marketer:
Topics: Content marketing, SEO
Website: Content Champion
Host(s): Loz James
Listen on: Apple Podcasts, Google Podcasts, Stitcher
Before starting the Content Champion podcast, Loz James worked as a broadcast journalist on BBC local radio. When he moved into copywriting and content marketing, starting a podcast was a no-brainer.
Initially, episodes of the show were about content marketing and content creation. Now, Loz covers all-things marketing like social media marketing, email, etc. He sees the future of Content Champion as combining podcasting with video to create an immersive audience experience.
Loz also believes that podcasting is the best medium to create an intimate connection with the audience, which is extremely valuable when selling services and building your brand. He's attracted multiple high-paying clients through the show.
Listen to this episode where Dom Wells from Human Proof Designs discusses content creation:
Topics: Content marketing, SEO
Website: Digital Marketer
Host(s): Garrett Holmes and Jenna Snavely
Listen on: Apple Podcasts, Stitcher, Spotify
This podcast started its life as a resource for members of Digital Marketer Engage —a closed group on Facebook for their Digital Marketer trainees. Episodes feature group members as well as renowned marketers, entrepreneurs, and CEOs (e.g., Garrett Mehrgruth, Dave Gerhardt, etc.) who share lessons from their successes and failures.
Garrett and Jenna, the hosts, say that the show offers a sneak behind the curtain of what goes on at DigitalMarketer HQ. Fun fact: they mastered the intro music for the podcast on Abbey Road alongside Paul McCartney's Sound Engineer. Get started with this episode with Chris Davis of ActiveCampaign talking about free educational content:
Topics: SEO, digital marketing, Ecommerce, PR, PPC, web design, CRO
Website: Exposure Ninja
Host(s): Tim Cameron-Kitchen
Listen on: Apple Podcasts, Stitcher, Spotify, Libsyn
Many Exposure Ninja customers mentioned that they love podcasts. And since the team loved them too, launching their own show was a no-brainer. So, in 2016, the Exposure Ninja marketing podcast was born.
Tim, the host of the show, says that they only interview people who've had incredible results with a particular digital marketing strategy: business owners, marketing managers, or team members at Exposure Ninja. This approach allows them to bring real value to the show since the guests share what they did to achieve this or that result.
Check out this interview with copywriting guru John Carlton where he defines what good copy is and gives some practical advice on how to write it:
11. Entrepreneurs on Fire
Topics: marketing, SEO, Ecommerce, PR, PPC, web design, CRO
Website: Entrepreneurs on Fire
Host(s): John Le Dumas
Listen on: Apple Podcasts, Spotify, Stitcher, iHeart
John, the podcast host, previously spent a lot of time listening to podcasts on the way to and from work. As such, he found that he quickly ran out of the new episodes to listen to. He knew he was not the only serial driver to crave inspirational and educational content… so he started a daily podcast of his own.
When John launched Entrepreneurs On Fire, it was the only daily podcast interviewing successful and inspiring entrepreneurs. To date, the show counts over 2,200 episodes. John no longer hosts a daily show, but the podcast continues to thrive. Each episode tackles one topic and area of expertise and ends with an action item that listeners can do right now to grow their business.
Listen to this episode where email marketing specialist, Tarzan Kay, shares her ideas on how to squeeze profits from an email campaign:
12. Actionable Marketing Podcast
Topics: Marketing strategy, content marketing, CRO
Website: Coschedule
Host(s): Eric Piela
Listen on: Apple Podcasts, Stitcher, Spotify
Even though the CoSchedule blog was (and still is) a popular resource among marketers, their team felt like they needed something to supplement it. So, they launched a podcast and started with interviewing smart CoSchedule team members.
The title "Actionable Marketing Podcast (AMP)" was chosen intentionally. Eric Piela, the host, claims that if the listener doesn't walk away with a few marketing concepts they can go experiment with, then he's failed his listener.
Every few episodes, Eric implores listeners to share the topics they want to learn about and who they want to learn from. Check out this episode where Ben Sailer from CoSchedule discusses their marketing strategy survey: